We support East Valley women by providing a life bridge to economic stability, personal growth, and professional achievement. During the course of the academic year, scholar-mentees attend individual and group mentoring meetings, as well as occasional workshops on topics of interest. The annual Night of Heroes Gala is typically held in the spring of each year and honors the East Valley Man and Woman of the Year. As of fall 2021, the organization had served 92 women with ongoing scholarship support and individual mentoring, while offering services to hundreds of other women.
Make an Impact Today
Join Positive Paths as we transform lives in the East Valley! Be a part of creating a resilient, sustainable workforce and community by sharing your time and expertise or making a donation.
Sarah
Sarah came to Positive Paths in 2016 looking to finish the education she started 18 years prior. Sarah is a mother of two now-grown children and has overcome abuse, trauma, homelessness, and child custody battles. Now happily married, Sarah is about to achieve a goal that is a long time coming. She will graduate in May 2021 with an associates in Information Technology and a certificate in Cisco Networking from Chandler-Gilbert Community College. "Being a part of Positive Paths has meant the world to me. The women I have met have been an inspiration to me whether it be other scholars or our great mentors who take time out of their busy schedules to be there to help in any way they can." Seeing how far she has come, and knowing we were able to help get her over the finish line of completing her degree, is why we do what we do at Positive Paths.
Sarah has always had a passion for computers and enjoys her job with a software company in Gilbert. She recently had a performance review and because she is graduating, they are working on creating a new position for her, which she is excited about. "Once I graduate, I plan to keep learning to earn different certifications in the IT field, and depending on where work takes me, going on to a bachelor's degree may be in the future, but I am still deciding which route I want to go." She says that in the IT field, education and training doesn't stop because of how quickly technology changes.
"To the donors that have made this possible and also to the ladies that make this program run daily, this is one of the best things that could have happened to me. If it wasn't for Positive Paths and my great mentor Sharon, I don't believe I could have made it through these years. They gave me the push to keep going no matter what." We love Sarah's drive and determination and know she will continue to have a successful future.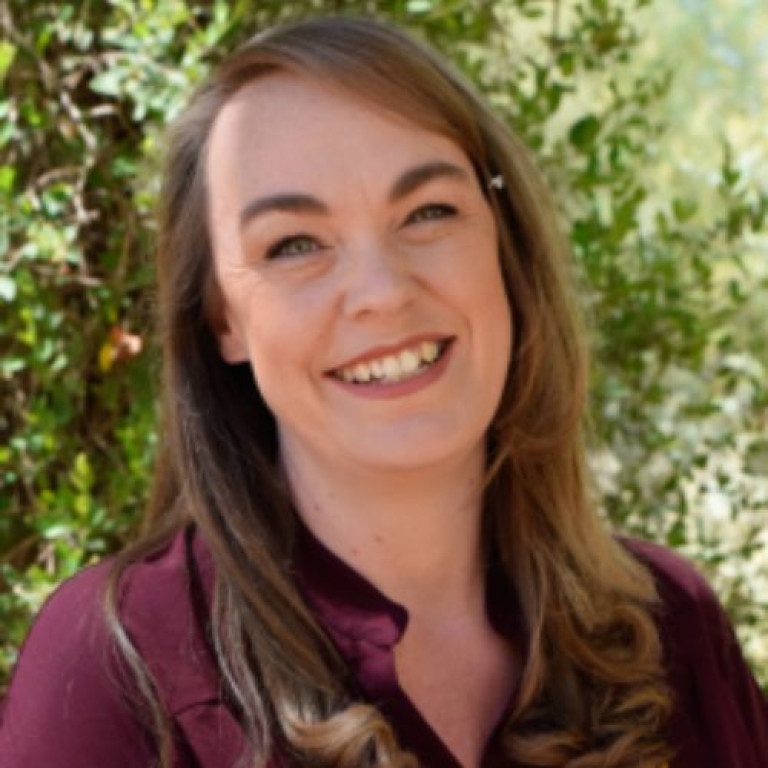 Hilda

Hilda started with Positive Paths in 2017 while she was enrolled at Central Arizona College (CAC). She was reeling from a divorce and was raising 3 young children, one with special needs. I remember her interview with a group of us on the Positive Paths Scholarship Committee. Hilda said she had been "living the dream" and was very involved in the kid's activities as a stay-at-home mom for 14 years. Hilda was, as you might imagine, worried about the future for her and her children as she did not have the education or work experience to be able to support a family on her own.
Hilda transferred from CAC and was able to obtain a student job and housing at ASU's Polytechnic Campus. During the last year of her bachelor's degree program in business, she was hired as a regular benefits-eligible employee of ASU. She eventually completed her bachelor's degree and subsequently earned her Master's degree in Higher Education. I had her in my graduate classes where she excelled. Hilda took advantage of many professional development opportunities with Positive Paths and within the university. The Business Operations Manager position, which she has now achieved after 3 promotions in as many years, is hard to obtain as it requires financial expertise and great attention to detail. These positions pay well, have a strong benefits package, and a good pension program. Hilda has moved up through increasingly responsible positions because she has proven herself to be a reliable, hardworking employee, willing to continuously learn new skills and grow.
And, just as importantly, her family life is thriving. Hilda feels like the children are doing well, and she is in a committed relationship. She and her partner, who has 3 children from his previous marriage, live in Gilbert, so they have a blended family.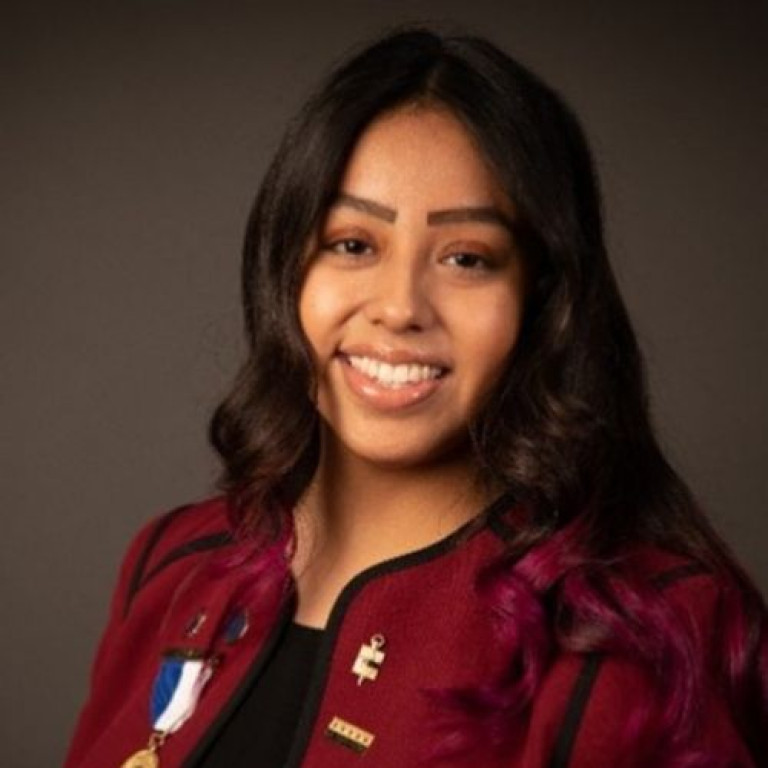 Abby
Abigaly "Abby" Atonal Rodriguez is a woman who is going places! When Abby started with Positive Paths in 2019, she was a first-generation college student who was brought to the U.S. as a child and was in Deferred Action for Childhood Arrivals (DACA) status. She almost dropped out of school due to financial insecurities and fear of failure, but she knew that her parents sacrificed for her and her siblings, so she worked very hard at school while working two jobs.
Abby excelled at Mesa Community College (MCC) and served as President of Phi Theta Kappa (PTK), the national honor society of community colleges. In May 2020, she graduated with a general education certificate, an academic certificate in global citizenship, an Associate in General Studies, and an Associate of Arts – all with "highest distinction" honors. Abby sent her graduation announcement with a beautiful thank you note to Positive Paths, stating, "Positive Paths gave me a space to share my story. It was incredibly difficult but you all stood by my side and accepted me. Thank you for including me in the community you have built." We could not be more proud of Abby and her accomplishments, and we cannot wait to see what she does in the years ahead!
She was selected as the Class of 2020 Honors Speaker for commencement ceremonies and was disappointed when graduation events were canceled due to the pandemic. But her spirits soared when she received the prestigious Jack Kent Cooke national scholarship, which covers the costs of her undergraduate education (up to $40,000!). Additionally, she was one of 15 students from across the nation to receive a $5,000 scholarship as a PTK Guistwhite Scholar. Ever the adventurer, Abby headed to Williams College in Williamstown, Massachusetts, to finish her bachelor's degree.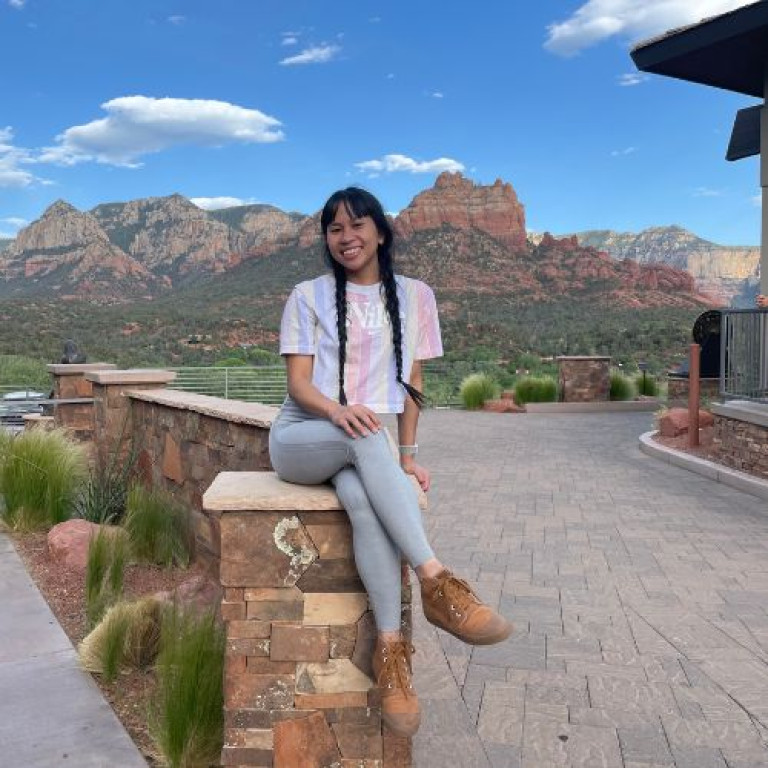 Kellie
Kellie is in the Electrical Engineering program at ASU and was elected President of the Society of Women Engineers at ASU (SWE ASU) for the 2022-23 school year. She placed 2nd in the Undergraduate Rapid Fire Competition at the Society of Women Engineers Conference. The Rapid Fire Competition is a 5-6 minute speaking presentation, designed to emphasize the ability to concisely and dynamically present technical information.
Kellie was part of our 2021 Positive Paths video series and attended the Fall 2021 Gala. We are so proud of Kellie and know she will do amazing things in her life and career!
Kellie also accepted a summer/fall 2022 internship with Collins Aerospace in Houston, Texas. Kellie says "I will be a part of the Mission Systems Summer Engineering Project Program, on a team that is responsible for mechanical engineering activities associated with installation, design, development, and qualification testing or field support of components for the Space Suit Extravehicular Mobility unit (EMU), the Universal Waste Management System (UWMS) for NASA's Crew Exploration Vehicle, or life support assemblies on board NASA's International Space Station."
Accountability
Our goal is to keep our community well-informed about who we are serving and the progress we are making.